It took two weeks and 28 events for a player from the UK to collect their first gold bracelet at the 2022 World Series of Poker. But once Robert Cowen attached a hallowed piece of wristwear to his arm – following his success in the $50,000 High Roller Pot-Limit event – the floodgates opened. As the famous series enters its final week, players representing the UK have now won four events.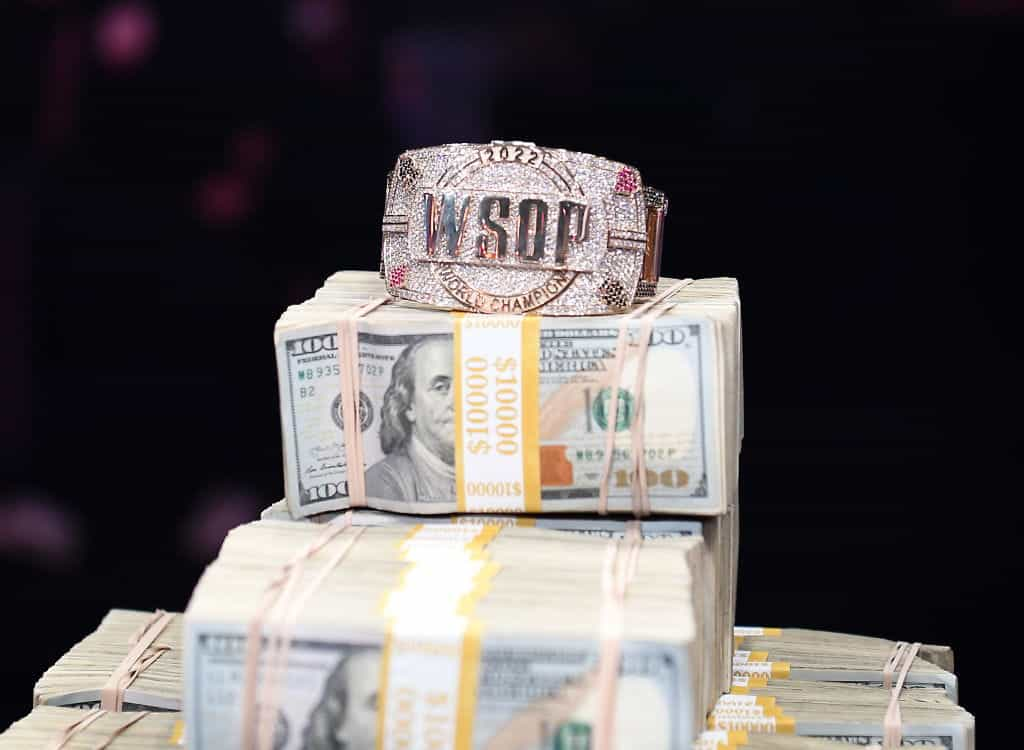 Cowen's big investment yielded a $1,393,816 return as he outlasted 105 rivals. But Paul Hizer arguably achieved a lot more when turning a $400 entry into $414,490 when taking the World Series of Poker Colossus tournament.
The London resident had 13,564 rival entries to overcome before his $400 entry appreciated over 1,000-fold. A huge achievement enhanced further by Hizer's post-game interview that left observers astonished.
"It means a lot," Hizer told reporters. "I've played many tournaments, had lots of deep runs. But I've never actually won a tournament outright. I don't know if many people know that about me. I'm sure my close friends do. And maybe today was just written in the stars and I was meant to go all the way!"
Leonard and Lodge Add Two More Bracelets to UK Haul
Two days later, the UK's Patrick Leonard joined forces with Norway's Espen Jorstad to win the $1,000 entry tag-team event. Both players have enjoyed considerable success and financial rewards during their careers. But this gave both their first World Series bracelet.
Most recently, England's Harry Lodge played and won the $7,777 Lucky 7's No-Limit Hold'em High Roller event. The online high-stakes tournament drew 161 entries, and the top thirty players took home their share of a $1,463,023 prize pool.
Lodge, who was also claiming the first bracelet of his career, was awarded a $396,666 prize. It was a climax of a strong showing at the 2022 World Series. The 28-year-old professional player had already cashed in eight events.
Bulgaria Is Europe's Most Successful World Series Nation
With only a few days of World Series action remaining, the 2022 event has been a disappointing year for many European nations. Remarkably Espen Jorstad's victory is the only bracelet competition won by a player representing a Scandinavian country.
Players from Italy, Spain, Ireland, Czechia and the Netherlands have so far failed to win a World Series competition. However, Bulgaria has been a surprise package. Its representatives have won three events.
Yuliyan Kolev gave the nation its biggest score when he netted $1,125,189 in the $1,500 Millionaire Maker No-Limit Hold'em. The former professional arm wrestler boosted his World Series winnings by a further $62,500 when finishing 136th in the $10,000 Main Event.
Attracting 8,663 players, the Main Event fell just shy of a record entry. The prize structure shows the eventual champion will collect $10 million and all players that finish eighth or better will be awarded at least $1 million. The final table action is set to conclude on Saturday, July 16.
Have you enjoyed this article? Then share it with your friends.
Share on Pinterest