International betting and gaming operator Entain has unveiled its innovative new workspace in Stratford, East London. Dubbed "the workplace of the future", the new offices can host up to 500 of Entain's creators, traders and branding teams. The hub also boasts a range of cutting-edge features, designed to enable employees to thrive and support the company's mission to produce top-quality customer experiences.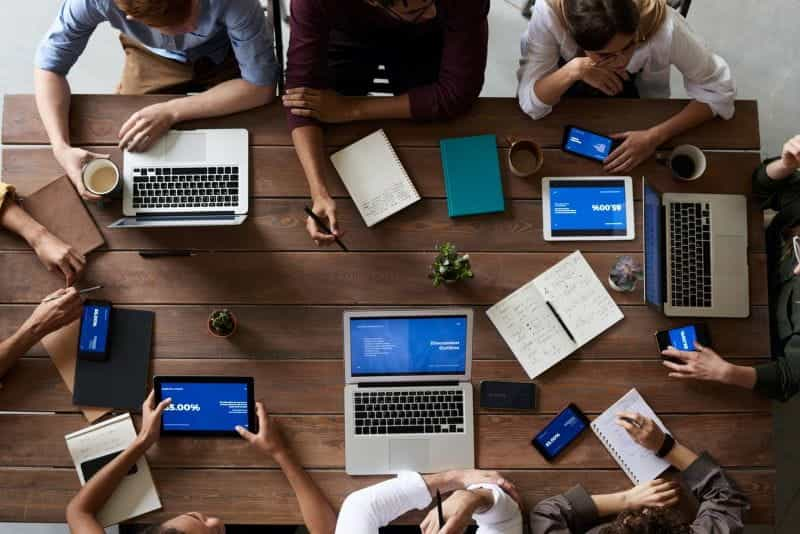 Delivering Fantastic Experiences
International gambling operator Entain has opened a brand-new working space for its employees in the heart of the capital. Entain set out to offer its colleagues the workplace of the future, featuring the latest in technology and dedicated spaces for people to collaborate.
Located in Stratford, East London, Entain's new premises have been built to accommodate a capacity of up to 500 workers. It is now easier than ever for teams from all over the company to work together on new products and ideas. By sharing collaborative spaces, content creators, retail, trade and brand teams will be able to lead the way in innovation.
The new hub includes an e-sports player zone, state of the art media studio and a sports café for colleagues to enjoy. A grandstand has been designed to bring people together, acting as a core for internal events. Well-being and accessibility facilities have also been included, to ensure a fair and healthy working environment for all employees.
Announcing its new London office space, Entain reiterated its mission to redefine the sports betting and gaming industry and to lead in interactive entertainment. The specially created workplace is key to its growth strategy and marks a pivotal investment in the future of the company.
Through supporting staff to work collaboratively in engaging surroundings, Entain hopes to foster a workplace that is both productive and innovative. That will in turn benefit customers, who will receive top-level experiences and the most exciting new products. Entain's Retail Managing Director Andy Hicks added:
"We set out to develop a workplace that embodies the spirit of who we are as a global business, with innovation and collaboration at our core. Including features such as wellbeing spaces, collaborative hubs and the latest technology, we were able to create an environment that not only enables all of our colleagues to thrive, but also create and deliver fantastic experiences for our customers."
Journey to Net-Zero
Entain's new workplace will operate wholly on renewable energy, as part of the operator's commitment to making its business more environmentally friendly. Last year, the company set out plans to reduce its carbon emissions to net-zero by the year 2035. If successful, it will have reached its target fifteen years sooner than the Paris Agreement's 2050 target.
Entain, which is listed on the London Stock Exchange and is a constituent of the FTSE 100 Index, is keen to lead the way on driving up industry standards. As a large business, Entain's CEO Jette Nygaard-Andersen believes that Entain has a responsibility to behave ethically and to help to tackle the climate crisis.
Between 2018 and 2021, Entain managed to lower its emissions by 15%. In recognition of this achievement, the operator was awarded the Carbon Trust Standard for Carbon in the UK. Now replaced by the Route to Net Zero standard, the initiative set out to help firms to improve their carbon, water and waste management.
By designing a new workplace with the environment in mind, Entain has proven that it is serious in intending to reach its ambitious net-zero target on time. The newly opened offices sit alongside the group's £100 million commitment to innovation, following its announcement earlier this year that Ennovate will launch this spring.
The leading operator has described Ennovate as a global innovation hub, focused on investing in innovation projects, start-up investments and collaborations with partners in the UK and abroad. £40 million of the total £100 million investment has been specifically earmarked for projects within the UK.
Ennovate has already recruited a number of technology partners, including Verizon, BT and Theta Labs. Together the companies will work to develop ground-breaking experiences for customers in gaming and interactive entertainment. The operator has also partnered with two non-profits, Climate Hack.AI and Chance for Childhood, to enhance its environmental and societal benefit.
VR, AR and NFTs
As part of Ennovate, Entain plans to showcase a range of new consumer products and experiences. Immersive Virtual Reality and Augmented Reality experiences will be launched at the Ennovate lab in Charterhouse Square, Farringdon, including a pioneering VR multi-sports experience. Similar experiences will also be brought to customers on the high-street, via two new VR arcades.
Entain also plans to join the increasingly popular NFT trend, and is already developing its own non-fungible tokens. The collectible digital assets will be made available across Entain's brands. Partypoker is the first such brand to have announced its planned NFTs, which will be powered by Theta Labs. Its offerings will showcase some of the most iconic moments and tournament hands in partypoker history.
The Ennovate lab in Farringdon has been deliberately placed at the heart of London's entrepreneurial tech community, in the same neighborhood as the UK headquarters of TikTok and Snapchat. The lab will be home to Entain's innovation technology team and will be fitted out with the latest cutting-edge technology.
The centerpiece of Ennovate labs will be an Experience Zone, where customers, investors and partners will be able to try out the company's latest immersive sports, gaming and interactive entertainment offerings. Chief Operating Officer at Entain Sandeep Tiku elaborated on the exciting plans, stating:
"Our goal is to bring the most exciting experiences in immersive sport, gaming and interactive entertainment to life as the metaverse takes shape. Working with partners we believe we can achieve great things faster, both for customers and to apply these technologies and skills to benefit wider society."
It has been reported that Sandeep Tiku is set to leave Entain, after spending two years as part of the company's leadership team. Tiku will join former Entain CEO Shay Segev at sports media platform DAZN. Segev has since become sole CEO of DAZN and has been joined by former Entain executive Ian Turnbull.
Have you enjoyed this article? Then share it with your friends.
Share on Pinterest