The Indianapolis Motor Speedway (IMS) now has its first betting lounge. Caesars Entertainment will act as the official sports betting partner of the Indy 500, IMS, and all races on the 2022 calendar. The Caesars Sportsbook Lounge is located at the Pagoda Plaza. Fans who have the app and make a first-time deposit of $20 can enter the lounge.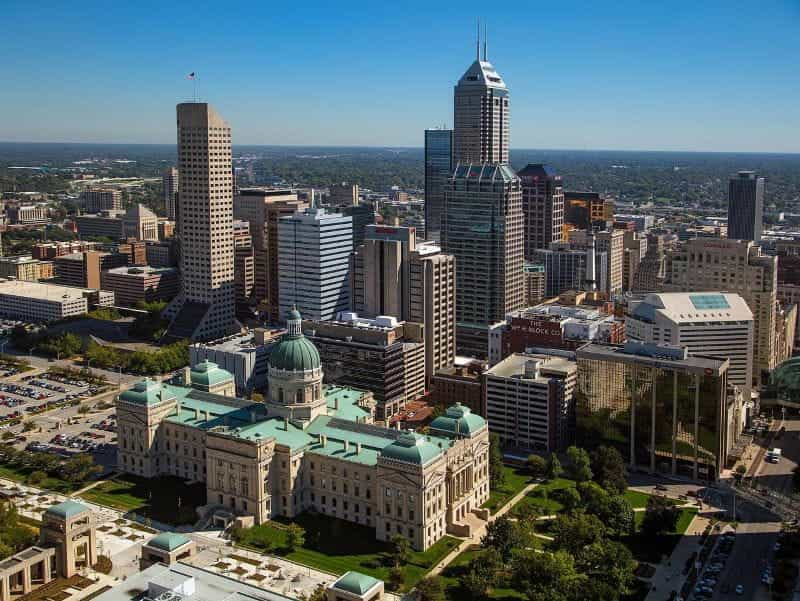 Caesars Gains Access to Indianapolis Motor Speedway Logos and Assets
The world-famous Indianapolis Motor Speedway (IMS) now has its first public betting lounge, thanks to a recently minted partnership with casino and sportsbook operator Caesars Entertainment.
The lounge has already made its debut during 2022's GMR Grand Prix, symbolizing a landmark deal in the "Racing Capital of the World", which is located in the US state of Indiana. As a result of the deal, Caesars will also act as the official sports betting partner of the Indy 500, IMS and all races on the 2022 calendar.
The lounge, officially titled The Caesars Sportsbook Lounge, is located at the Speedway's Pagoda Plaza. There is good news for fans who have already downloaded the Caesars Sportsbook app: if they also make a first time deposit of $20, they will gain $106 in free bots along with, most important of all, entry into the lounge. Once inside the facility itself, app users will also receive access to complimentary food and drink, live entertainment, and racing games.
In return, Caesars Sportsbook wins access to IMGS logos and marks, digital and social media assets, as well as a variety of exclusive VIP speedway experiences for its users. The partnership includes race day support with video board placements, PA announcements, and program ads which are set to promote Caesars Sportsbook.
Indianapolis Motor Speedway Is World's Oldest Auto Racing Track
Commenting on the news of Caesars Entertainment's sports betting partnership with the Indianapolis Motor Speedway (IMS), IMS President Doug Boles sees the brand new sports betting lounge as a new chance for fans to enjoy racing at the renowned auto racing track:
"We're extremely excited about this partnership with Caesars and believe their on-site presence – which is a first for our storied facility – will give fans a new opportunity to engage with the on-track action at the Racing Capital of the World. This is another reason to look forward to an epic and historic Month of May at IMS."– Doug Boles, President, Indianapolis Motor Speedway (IMS), Press Release
For its part, co-president of Caesars Digital, Eric Hession, recognized both Indianapolis Motor Speedway and Indy 500 as iconic sporting institutions and believes the partnership is further evidence of the operator's commitment to the Hoosier State:
"The Indianapolis Motor Speedway and the Indy 500 are iconic sports traditions in the Hoosier State. Partnering with such a historic speedway and its marquee events provides our customers with unique experiences through Caesars Rewards. This will be an impactful partnership for us that builds upon our commitment to the state of Indiana alongside the investments into our resorts and the communities they serve."– Eric Hession, Co-President, Caesars Digital, Press Release
A little background on the Indianapolis Motor Speedway for those not yet aware: the racetrack is the world's oldest auto racing track, having opened in 1909, and also one of the most famous. The new deal with the track symbolizes an expansion of Caesars' presence in Indiana, where it already operates ventures such as Horseshoe Indianapolis, Harrah's Hoosier Park, and Horseshoe Hammond.
Caesars Partnered with Cleveland Cavaliers Back in March 2022
In other Caesars Entertainment-related news, the entertainment brand announced in March 2022 that it had finalized a multi-year agreement with the world-renowned NBA franchise the Cleveland Cavaliers, thereby becoming the team's official sportsbook betting partner and official casino partner.
The multi-year agreement between the two also entails plans to open up a massive retail sportsbook located at Rocket Mortgage FieldHouse – the home stadium of the Cavaliers – provided the project receives all necessary regulatory approvals. It has the potential of spanning a total size of up to 10,355 square feet, while making use of official Cleveland Cavaliers logos and marks, broadcast and digital content.
Caesars Digital co-president Chris Holdren welcomed Ohio fans into the Caesars Entertainment family:
"We're ready to welcome Ohio sports fans into the Caesars Sportsbook Empire, while also making history with our second sportsbook at an NBA arena. Building upon our already established roots with Scioto Downs in Columbus, we're excited to announce our partnership with the Cavaliers at an exciting time in their franchise's history. As we prepare to launch sports betting in Ohio later this year, this wide-ranging partnership enables us to connect with the Cavs' passionate and highly engaged fanbase. Caesars Sportsbook at Rocket Mortgage FieldHouse will be a first-class venue providing an exciting atmosphere for sports betting and more."
Caesars Expanded into Washington State in February 2022
Back in February 2022, Caesars launched its first retail sportsbook in the state of Washington at the Muckleshoot Casino in Auburn, with further plans in place to launch at the Spokane Tribe Casino and Chewelah Casino.
The Washington State Gambling Commission awarded the operator with a sports wagering license, thereby allowing it to launch its retail sportsbook in the Evergreen State. Caesars also holds partnerships with the Muckleshoot and Spokane tribes, the latter of which owns and operates both the Spokane Casino and Chewelah Casino.
The sportsbook at Muckleshoot Casino is set to be the largest of its sort and will boast four live betting windows and nine self-service betting kiosks. The other Caesars Digital co-president, Eric Hession, called the launch an important moment for the operator:
"Partnering with three tremendous casinos for our expansion into Washington state is a big moment for Caesars Sportsbook. We're thrilled to offer Washington sports bettors a chance to get into the action in time for Super Bowl LVI and we can't wait to see how fans from Seattle-Tacoma to Spokane enjoy the thrill of betting on their favorite teams and events."
Have you enjoyed this article? Then share it with your friends.
Share on Pinterest