Major casino and gaming operator Caesars Entertainment, in partnership with the MLB's Arizona Diamondbacks, has officially opened its Caesars Sportsbook at Chase Field in Phoenix, Arizona. The two-story, 22,300-square-foot entertainment destination is now the largest sportsbook in Arizona and the largest retail sportsbook to open in a major sports stadium in all of the United States.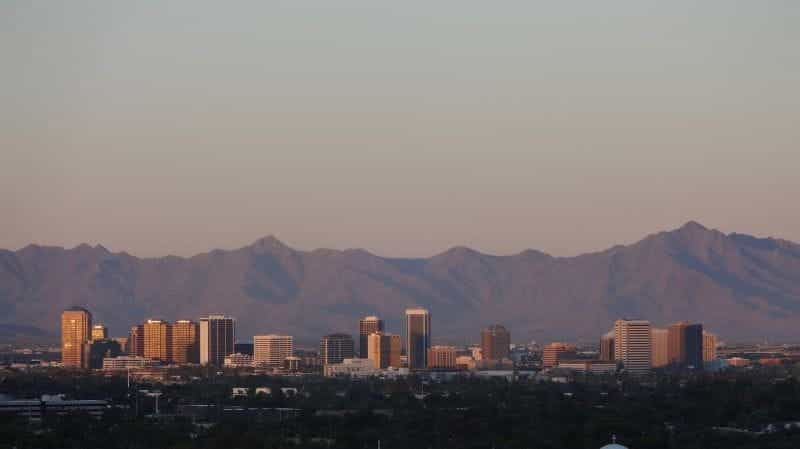 Sportsbook's Opening Event Was Held on June 21st, 2022
One of the foremost casino and sports betting operators, Caesars Entertainment, has finally opened its Caesars Sportsbook at the Chase Field in Phoenix, Arizona, with the help of the MLB baseball team the Arizona Diamondbacks.
The retail sportsbook spans two stories and over 22,300-square-feet and is physically located right near Chase Field in Downtown Phoenix, Arizona. Its size makes it the largest freestanding sportsbook in Arizona and the largest retail sportsbook to open in partnership with a major sports stadium nationwide. And in what is sure to be good news for gourmand fans – the facility also features a restaurant launched by renowned restaurateur Guy Fieri.
According to Caesars, the retail sportsbook facility and its accompanying restaurant is unlike anything that has opened to date, showcasing a total of nine betting windows and 13 self-service betting kiosks. Also included are wall-to-wall flatscreen televisions, a patio area, and plush lounge-style seating on both floors, boasting a total capacity of more than 425. Private space is also available to rent for those looking to host private events.
Caesars Sportsbook at Chase Field Phoenix was kicked off with a launch event on June 21st, 2022, featuring presentations from both Caesars and Arizona Diamondbacks representatives, along with a sampling menu, symbolic first bets, and finally a $20,000 donation from Caesars to the Arizona Diamondbacks Foundation.
Sportsbook Also Features an In-House Restaurant by Guy Fieri
Marking the occasion of the launch of the Caesars Sportsbook at Chase Field in Phoenix, Arizona, Eric Hession, Co-President of Caesars Digital, said the operator was deeply proud of the launch and thanked both the Diamondbacks and restauranter Guy Fieri for their help:
"We're extremely proud to bring Caesars Sportsbook and Guy Fieri's Kitchen + Bar to Chase Field and Downtown Phoenix. This destination provides sports bettors and non-sports bettors, locals, and visitors alike, with an experience they can't find anywhere else. Thank you to the Arizona Diamondbacks and Guy Fieri for making this possible."– Eric Hession, Co-President, Caesars Digital, Press Release
For their part, Arizona Diamondbacks President and CEO Derrick Hall claimed the team was proud to be partnering with Caesars Entertainment, promising guests who visit the retail sportsbook a memorable experience:
"What an incredible day for our fans, sports enthusiasts, guests, and especially for our organization. We are proud to partner with Caesars Entertainment and Guy Fieri, to bring a year-round first-class sportsbook, restaurant, and event space to downtown Phoenix. Everything about this dynamic venue, from the food to the design to the service, has been meticulously planned for an unmatched guest experience."– Derrick Hall, President and CEO, Arizona Diamondbacks, Press Release
The architecture behind the sportsbook was led by Bloc9 Architecture, with the design being handled by the Borisoff Design Studio. Meanwhile, the Whiting-Turner Contracting Company acted as general contractor to create a venue that "conveys the Caesars Sportsbook brand in a modern way through a lively and contemporary space fit for a Caesar."
Caesars Partnered with Omaha Productions for Podcast Series in June 2022
Earlier in June 2022, Caesars Entertainment made its foray into the podcasting world with the announcement of a new partnership with Omaha Productions – the entertainment business founded by former National Football League (NFL) player Peyton Manning.
The deal will see the two work together to create and launch the Omaha Audio Network, a full-service audio production network that will host a series of various podcasts. In addition to this, Caesars and Omaha will also serve as executive producers for a new digital series that will be promoted across both businesses' social media channels.
Finally, both Caesars Entertainment and Omaha Productions will work together on an exclusive live event series catered towards members of the Caesars Rewards loyalty program. This series will enable such members to interact directly with Omaha content creators and the Mannings at special events hosted at Caesars destinations all around the US.
NFL legend and Omaha Productions founder Peyton Manning hyped up the forthcoming original content arriving as a result of the partnership with Caesars Entertainment:
"All of us at Omaha are excited to expand the relationship and have Omaha create compelling original content in partnership with our teammates at Caesars. Caesars has already proven to be a great partner on the projects we have done together."
Caesars Racebook App is Now Live in Florida and Ohio
Caesars continues to expand its presence all around the country, with its Caesars Racebook mobile app recently launching in Florida and Ohio. The move comes as the result of a partnership between Caesars and NYRA Bets, the latter of which is the official wagering platform of the New York Racing Association.
Sports bettors in Florida and Ohio are now able to take part in pari-mutuel wagering on premier horse racing content from more than 250 tracks around the world. Sweetening the deal for new customers who sign up for the Caesars Racebook app is the eligibility for a 100% first deposit match up to $500.
Dan Shapiro, Senior Vice President and Chief Development Officer of Caesars Digital, hailed the app's launch as an important milestone for the operator:
"The launch of Caesars Racebook is an important milestone as we continue to add wagering opportunities for our customers and livestreaming content for the first time. Caesars Racebook is truly differentiated as the first horse racing advance deposit wagering app to include our award-winning Caesars Rewards loyalty program. We look forward to welcoming new horse racing customers and existing fans onto the platform and to working with NYRA Bets to grow horse racing as we deploy Caesars Racebook with plans to launch in about 30 states across the country."
Have you enjoyed this article? Then share it with your friends.
Share on Pinterest