Bally's Corporation has been chosen as the preferred bidder to build and operate a massive new $1.7 billion land-based casino resort in Chicago, Illinois. Bally's Chicago will include 3,400 slots, 170 table games, 10 food and beverage venues, a 500-room hotel tower with rooftop bar, a 65,000 square foot entertainment center, and more.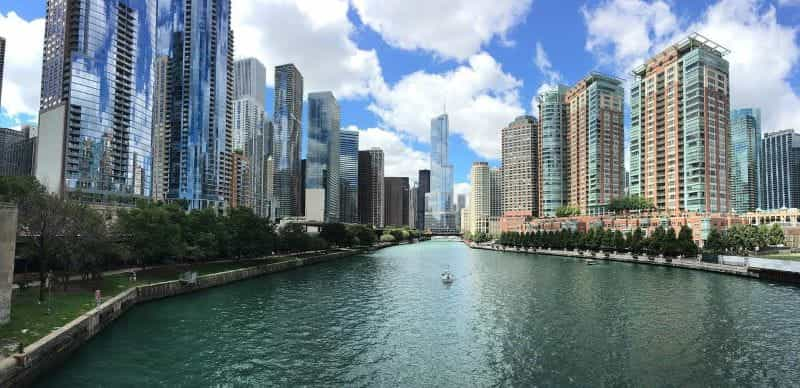 Bally's Worked Closely Together with Chicago City Officials
World-renowned gaming, hospitality and entertainment company Bally's Corporation has revealed that the City of Chicago has selected Bally's Chicago – its $1.7 billion destination casino, entertainment and hotel project – as the preferred bidder in the City's request for proposal (RFP) process to build and operate a world-class casino resort in the city's downtown.
Bally's has clarified that it worked closely together with city officials and community leaders throughout the entire RFP process in order to develop a project that embraced Chicago as a truly global gateway city, taking into account its vibrant cultural scene and highly diversified economy.
The City of Chicago's evaluation report asserted that the Bally's Chicago project provides the most economic value to the city and its taxpayers, including an upfront payment of $40 million and annual payments to the City totaling $4 million.
The large-scale casino complex is anticipated to bring in over $800 million in stabilized gaming revenue on an annual basis, a large portion of which will support the City's obligations toward its fire and police union pensions.
Project Will Create Over 6,000 Jobs for Chicago
A crucial selling point for the Bally's Chicago development project is its promise to create more than 3,000 annual construction jobs, as well as 3,000 permanent jobs upon completion of the project. The operator assured observers that it has the financial resources needed to complete the project and will not require additional equity financing to fulfill its obligations.
Bally's is also touting a "community-first approach" with the Bally's Chicago project, stating its commitment to promoting the diverse capabilities of its Chicago-based partners, such as the Chicago Community Builder's Collective – a minority-led construction management company – to help complete the project.
Finally, Bally's is further showing its commitment to the city of Chicago by having stepped into a neutrality agreement with the Chicago Federation of Labor (CFL), thereby guaranteeing high-paying roles for Chicago's organized labor groups in the operation of the Bally's Chicago resort.
Soo Kim, Chairman of Bally's Corporation's Board of Directors, took the opportunity to thank Chicago's Mayor Lori Lightfoot for leading a challenging but fair review process, once again reiterating Bally's desire to have the Bally's Chicago project serve the city and its people:
"We would like to thank Mayor Lightfoot and her office for conducting a tough, but fair, RFP process, and for selecting Bally's Chicago as the preferred bidder for the City's casino. Our vision is that Bally's Chicago will be of the people, by the people, and for the people of Chicago. Chicago is a unique and vibrant city, deserving of a world-class gaming and entertainment destination that drives the local economy, supports local labor, creates multigenerational wealth for minority investors, and showcases the best of what the City has to offer. We look forward to continuing to work collaboratively with the City Council and various City departments, the CFL, the Illinois Gaming Board, and all of our valued community partners on this exciting endeavor."– Soo Kim, Chairman, Bally's Corporation, Press Release
Bally's Casino Resort First Revealed in November 2021
The Bally's Chicago project was first unveiled back in November 2021, when Bally's announced that it had submitted a proposal to build and operate a massive new $1.6 billion land-based casino resort smack in the center of Chicago, Illinois. The venue is intended to serve as the company's new flagship location.
At the time, the proposal stipulated that the resort would be built in two distinct phases. The first phase would see $1 billion spent on a physical casino and the second, provided Bally's sees its expected investment return threshold after development phase one is over, would see a further $600 million spent to add up to 4,000 total gaming positions, a 400-room hotel tower with a rooftop pool and bar, and much more.
The operator even went so far as to already suggest two potential sites to build the land-based casino on – the Chicago Tribune Publishing Center, located on the corner of Chicago Avenue and Halsted Street, and the McCormick Place Truck Marshaling Yard. The City of Chicago first released a Request for Proposals concerning the building and operation of an integrated casino resort within city limits in April 2021.
Wanda Wilson, Bally Corporation's director and herself a native of Chicago, stressed that the project will bring with it a wealth of opportunities for Chicagoans:
"From design and build to operations and ownership, Bally's Chicago is committed to providing meaningful leadership roles, well-paying jobs, and investment opportunities for all Chicagoans. I have spent my career in gaming and am proud to be a director and investor in Bally's. Its commitment to innovation, culture and diverse ownership makes it a leader in the industry. Everyone knows the Bally name, and that global recognition will attract visitors to Bally's Chicago."– Wanda Wilson, Director, Bally's Corporation, Press Release
Bally's Recently Teamed Up with Cleveland Browns
In May 2022, Bally's revealed that it had entered into a long-term partnership with American football team the Cleveland Browns, meaning that Bally's will now become an official sports betting partner of the team. The news hit not long before the official launch of sports betting in the state of Ohio.
The Buckeye State is currently scheduled to begin offering online and mobile sports betting in the state before January 1st, 2023, after Governor Mike deWine set the date as the deadline to launch an official sports betting market.
Dave Jenkins, Haslam Sports Group executive vice president and chief operating officer at the Cleveland Browns, said that Bally's boasts a fan-centric approach to its operations:
"In addition to their incredible resources and expertise, Bally's Interactive has the fan-first mindset that is consistent with our focus and pivotal to creating successful, fully integrated sports betting experiences, and we look forward to supporting Bally's efforts to provide these innovative opportunities to Browns fans and all sports fans in Ohio in the near future."
Have you enjoyed this article? Then share it with your friends.
Share on Pinterest