Bally's Corporation's flagship Atlantic City resort will be unveiling a one-of-a-kind Carousel Bar located adjacent to the casino on Memorial Day Weekend 2022. The bar will revolve 360-degrees while guests enjoy its various offerings, as part of the revamped New Jersey property. The bar is a nod to the amusements once found on the city's famous boardwalk.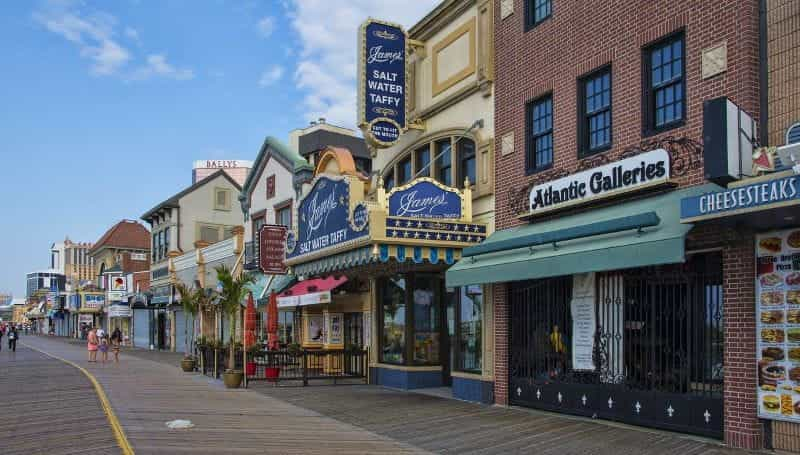 Bar is the First of its Kind in Atlantic City
The famed Atlantic City resort of Bally's Corporation, Bally's Atlantic City, has announced the latest attraction which it is set to debut this summer – on Memorial Day Weekend (May 27th to May 30th, 2022) to be exact. It will be the Carousel Bar: a bar whose main feature will be that it revolves 360-degrees while guests sit at it and enjoy all it has to offer.
The unique bar is being described by Bally's as a "must-see attraction" and "the quintessential meetup place" at the revamped New Jersey location. It is set to be open seven days a week. The purpose behind the bar is to add some flair to Atlantic City while maintaining a "nostalgic, modern twist". The aesthetics behind the bar are a "subtle nod" to the classic amusements once found along the coastal city's boardwalk.
A press release put out by Bally's Atlantic City provides some more information on the Carousel Bar attraction:
"Carousel Bar captures the essence of iconic experiences through its central feature, an elevated 24-seat rotating bar reminiscent of a carousel. With 360-degree views of the casino and adjacent areas, it is the first venue of its kind in Atlantic City."
Patrons at the bar can enjoy an array of modern craft cocktails inspired by quintessential Atlantic City flavors, including the likes of Saltwater Taffy, Cotton Candy, caramel popcorn, and more. The bar will be located directly adjacent to the casino floor and new hotel lobby.
Bar is Inspired by a Similar Offering in New Orleans
Bally's Atlantic City resort went on to emphasize how each aspect of the Carousel Bar's design, from the color palette to custom curved lighting fixtures above the bar, acts as a nod to the boardwalk, "creating a feeling of nostalgia and whimsy". Surrounding the revolving bar will be a lounge area capable of accommodating between 55 and 70 people, who will take on the role of spectators witnessing the action at the bar in front of them.
The idea for the Carousel Bar itself originated from a Bally's executive team trip to New Orleans, when they witnessed a bar offering a similar attraction and were inspired to bring it to Atlantic City as a result.
The bar's floor will rotate at only 2.5-5 revolutions per hour, making it slow-moving enough that a guest can simply walk onto it with ease. The floor will make a full revolution approximately every 15 to 20 minutes. The music choice at the bar will be upbeat and contemporary, helping bring "an attraction to the city that doesn't exist in the market today".
Bally's Was Assessing a Potential Takeover Bid in February 2022
Back in February 2022, Bally's Corporation announced that it had established an independent special committee to assess the proposed $2 billion (£1.48bn/€1.77bn) takeover bid submitted in January by Standard General.
The committee consists of independent and disinterested directors and is authorized to evaluate the preliminary, non-binding proposal from the New York-based investment firm Standard General. It will also entertain any other potential strategic alternatives to the proposal.
Standard General's bid proposes to acquire all of the remaining shares of Bally's that it does not already own for $38 in cash per share, pricing Bally's at an impressive total of $2.07 billion. The $38.00 share price represents a 30% premium compared to Bally's closing share price of $29.27 the day before the bid was submitted. The bid was first submitted by the hedge fund on January 25th, 2022.
At the news of the committee's formation, Bally's made sure to drive home that there can still be no certain guarantee that the operator would accept Standard General's bid:
"There can be no assurance that any definitive offer will be made or accepted, that any agreement will be executed or that any transaction will be consummated."
Bally's is Also Planning a Major Chicago Casino Resort
In other major Bally's news, the renowned casino provider revealed in November 2021 that it had just submitted a proposal to build and operate a massive new $1.6 billion land-based casino resort in the city of Chicago, Illinois.
Tentatively titled 'Bally's Chicago', the operator suggested two potential sites to build its large-scale land-based casino resort on: the Chicago Tribune Publishing Center, located on the corner of Chicago Avenue and Halsted Street, and the McCormick Place Truck Marshaling Yard.
Bally's chairman, Soo Kim, touted the project's local roots, promising that it would give back to the city in the form of tax revenue and well-paying jobs:
"Chicago is a dynamic, world-class city, which is why we are committing to make a $1.6bn investment in establishing Bally's Chicago as our flagship, and the only property in its class in the Chicagoland market. This property will be built, owned, and operated by Chicagoans, with a focus on minority and women investors, contractors, suppliers, consultants, and employees. It will generate tax revenue, create good-paying jobs, and attract international, national, and local visitors for generations to come."– Soo Kim, Chairman, Bally's Corporation
Have you enjoyed this article? Then share it with your friends.
Share on Pinterest