Bally's Interactive, a division of Bally's Corporation, has entered into a long-term partnership with American football team the Cleveland Browns. The deal between the two will mean that Bally's will become an official sports betting partner of the team, with the major news arriving before the official launch of sports betting in Ohio.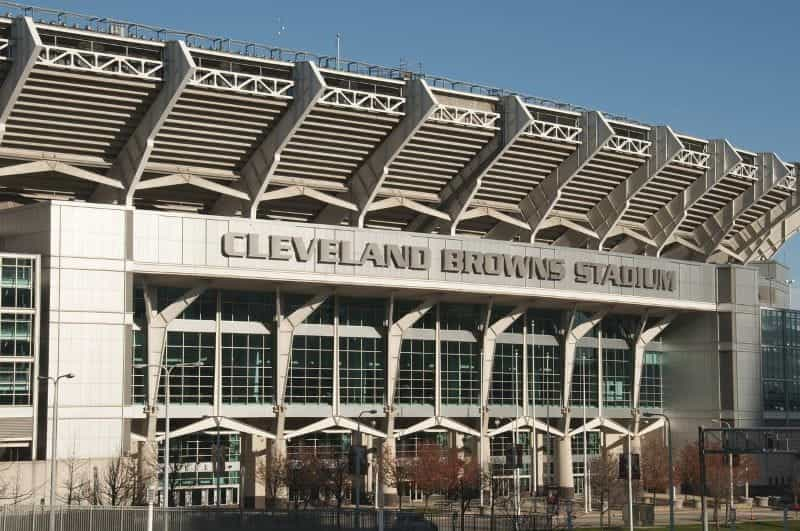 Ohio Set to Offer Online Sports Betting As of January 1st, 2023
Major casino and sportsbook operator Bally's Interactive, a division of Bally's Corporation, has announced that it has stepped into a long-term partnership with American football NFL team the Cleveland Browns.
The details of the partnership will see Bally's named as an official sports betting partner of the renowned team, with the significant move arriving a while before the official launch of sports betting in Ohio.
As of writing, the Buckeye State is set to offer online and mobile sports betting in the state before January 1st, 2023, after Governor Mike deWine set the date as the deadline to launch an official sports betting market.
Deal Will Likely See Bally's Branded Lounge at Ohio's FirstEnergy Stadium
To mark the occasion of Bally's and the Cleveland Browns partnering together in an exclusive sports betting deal, Dave Jenkins, Haslam Sports Group executive vice president and chief operating officer at the Cleveland Browns praised the operator's fan-centric approach to its operations:
"In addition to their incredible resources and expertise, Bally's Interactive has the fan-first mindset that is consistent with our focus and pivotal to creating successful, fully integrated sports betting experiences, and we look forward to supporting Bally's efforts to provide these innovative opportunities to Browns fans and all sports fans in Ohio in the near future."– Dave Jenkins, Chief Operating Officer, Cleveland Browns, Press Release
Jenkins went onto express confidence that the partnership would benefit the wider sports betting industry in the Buckeye State:
"As we continue to work closely with sports betting regulators in our state to ensure a responsible and timely launch, we are excited and confident that our partnership with Bally's will ultimately offer industry-leading benefits to fans throughout Cleveland and Ohio."
In the event the partnership receives all necessary regulatory approvals, a Bally's branded lounge located at Ohio's FirstEnergy stadium will mark the deal between the operator and the Cleveland Browns. Furthermore, a Bally Bet Sportsbook mobile app will launch in the state, as well as a selection of free-to-play opportunities for Ohio sports fans.
For its part, Adi Dhandhania, chief operating officer of North America for Bally's Interactive, said the Browns' stadium and atmosphere during its games are a great platform for the operator to show off its brand:
"We are excited to partner with such a historic pro football franchise to secure sports betting market access in Ohio, and bring to its fanbase more ways to engage through our online gaming platforms. The Browns' stadium and gameday atmosphere provide a great opportunity for us to showcase our Bally Bet Sportsbook app and Bally Play products in Ohio."– Adi Dhandhania, Chief Operating Officer for North America, Bally's Interactive, Press Release
Bally's Buying 9% Stake in Loyalty Solutions Provider Snip
In other very recent Bally's news, the entertainment giant announced earlier in April 2022 its desire to purchase a minority stake in digital marketing promotions and loyalty solutions provider Snipp Interactive. The provider's SnippLOYALTY platform would also be integrated into Bally's physical and digital properties as part of the deal.
Snipp said that Bally's had made a $5 million commitment to invest in the company, thereby granting it the ability to nominate one director to Snipp's board, which is expected to be increased in size to five directors.
Bally's would also have a right of first refusal in the event that there is any offer to purchase all or substantially all of Snipp's assets received by Snipp from any competitor of Bally's. Bally's is expected to own roughly 9% of the issued and outstanding common shares of Snipp if the deal successfully goes through.
Atul Sabharwal, Founder & CEO of Snipp Interactive, highlighted Bally's extensive track record, as well as Bally's becoming the exclusive gaming partner of Snipp's loyalty gaming platform – Gambit:
"Bally's is one of the most forward-thinking companies in the gaming industry and their investment illustrates the value that they see in SnippLOYALTY as well as our SnippCARE customer acquisition, retention, and engagement platform. Our acquisition of Gambit was intended as a way to better align ourselves with the gaming world. Now, only a couple of months later, we're entering a deep relationship with Bally's. We welcome their presence on our board and look forward to tapping their deep expertise in this high-growth industry."– Atul Sabharwal, Founder & CEO, Snipps, Press Release
Caesars Partnered With Cleveland Cavaliers in March 2022
Meanwhile, world-renowned casino operator Caesars Entertainment announced in March 2022 that it had secured a multi-year agreement with another famous Cleveland, Ohio sports team – the legendary NBA franchise the Cleveland Cavaliers. Much like the deal between Bally's and the Browns, Caesars will become the Cavaliers' official sportsbook betting partner and official casino partner.
In what is likely a predictable move, Caesars revealed that there are plans in motion to open up a large new retail sportsbook located at Rocket Mortgage FieldHouse – the home of the Cavaliers. The project will likely cover a whopping 10,355 square feet and will make use of official Cleveland Cavaliers branding.
Chris Holdren, co-president of Caesars Digital, said the operator was greatly looking forward to bringing in Ohio sports fans into its world:
"We're ready to welcome Ohio sports fans into the Caesars Sportsbook Empire, while also making history with our second sportsbook at an NBA arena."
Have you enjoyed this article? Then share it with your friends.
Share on Pinterest