Europe's longest-running poker tournament, the Irish Open, attracted a record attendance over the Easter weekend. 2,040 entries contributed to a €1,989,900 prize-pool. The winner was Dublin-based American Steve O'Dwyer.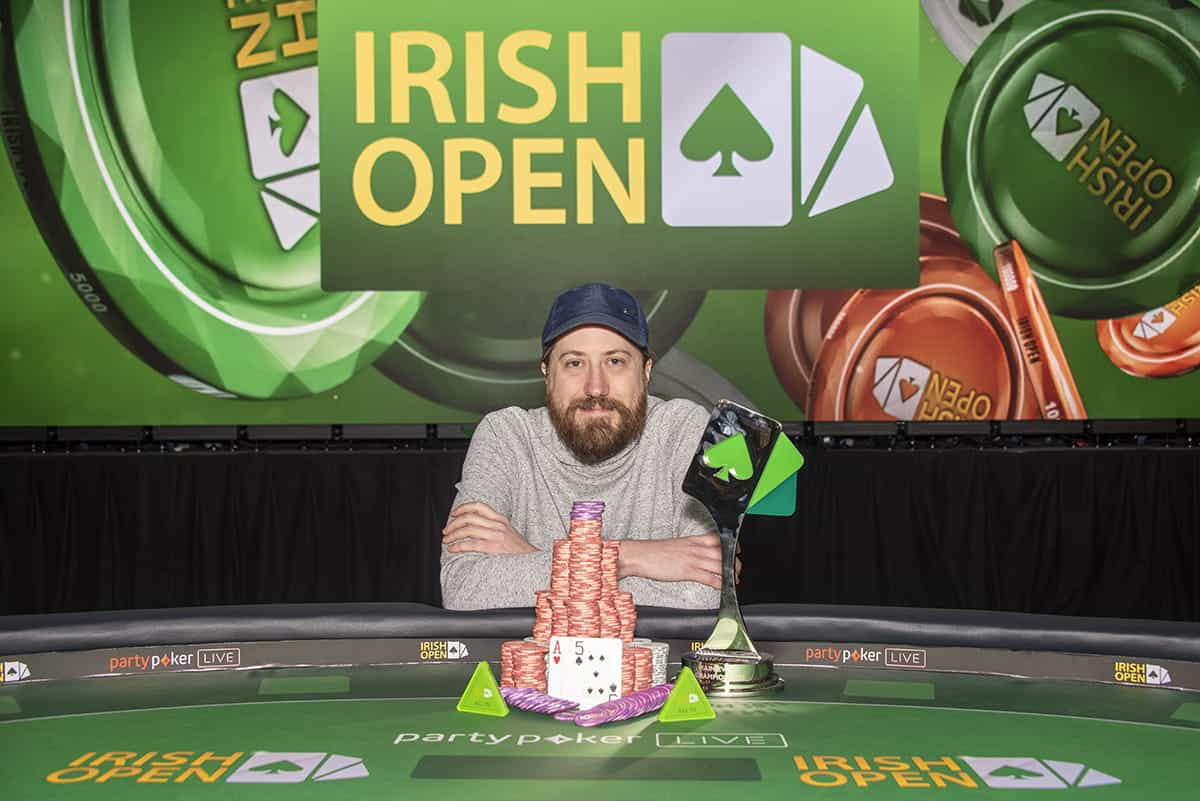 The established professional collected €318,700 for his remarkable efforts. They were so extraordinary the victor wasted no time in recognizing his good fortune when interviewed after collecting his trophy.
"I'm really happy, this is a tournament I always really wanted to win. It's a little emotional. Like I'm really happy to win this one like more than almost any poker tournament I have ever played," he told interviewer Laura Cornelius.
"I ran really, really good this tournament. I put something heinous bad beats on people. I had the one outer at the final table to win a giant pot to put Kyle [Maguire] back with everyone else's stack. And like, day one day two, day three, same story."
Falling Like a House of Cards
O'Dwyer went to the final table as chip leader sat before a 14.43 million stack. Scotland's Kyle Maguire followed with 13.07 million, Justin Boyle and Garry Spinks were third and fourth in the standings holding 8.45 million and 8.27 million chips.
It looked like it might develop into a close-run race but O'Dwyer managed to eliminate every single rival. Amongst his notable dismissals, he dispatched Justin Boyle with an Ace-King that connected on the turn overhauling his opponent's pocket-Queens.
Chris Williams fell when his pocket-8s were beaten by Ace-Queen in another pre-flop all-in race. A particularly ugly exit was that of Matthew Bushell. He got his chips in the center holding pocket-Jacks against an Ace-2 of diamonds.
A 2-5-Queen flop with just one diamond looked relatively innocuous but a second diamond on the turn and another on the river saw O'Dwyer make an unlikely nut-flush.
There was more carnage when Garry Spinks was all-in with Ace-King versus Ace-Queen. A Queen-Queen-9 flop sent that player out in fourth. In keeping with the run of things, the deciding hand saw O'Dwyer overcome the odds with his Ace-2 busting Kyle Maguire's pocket-9s.
The victory took Steve O'Dwyer's career earnings to $31.9 million. $15.1 million of that figure has come from European events. Macau and the Caribbean have also been particularly lucrative destinations for the American.
Monaco Next, Burlington for 2023?
The new Irish champion declared he will now head to Monte Carlo for the PokerStars European Poker Tour festival that begins on April 28. The ten-day event features 47 tournaments with entry fees ranging between €350 and €100,000.
Meanwhile, the 2023 Irish Open is likely to be staged at a new venue. The Citywest Hotel complex has hosted the event for the past seven years, but media reports suggest the venue will be leased to the government for use as a refugee center for the next two years.
Dublin's Burlington Hotel, home to the Irish Poker Open in 2007 and every year between 2010 and 2015, would appear the most likely venue for the 2023 event.
Have you enjoyed this article? Then share it with your friends.
Share on Pinterest