Thirty-one years is a long time between drinks! But, over three decades since Steve Davis and Alison Fisher beat Stephen Hendry and Stacey Hillyard in the 1991 World Mixed Doubles Snooker Championship, this unique doubles competition has returned to World Snooker's calendar.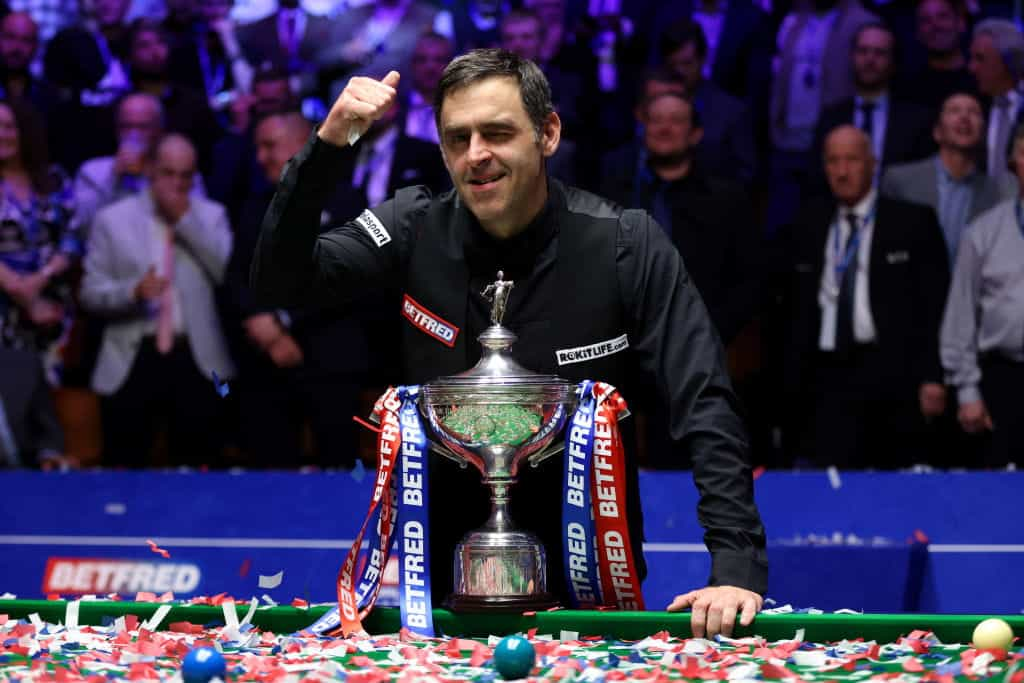 This weekend, snooker's top four ranked male and female players team up to contest the reincarnated 2022 BetVictor World Mixed Doubles. Milton Keynes' Marshall Arena is the host venue. ITV Sport will cover the action live.
Session times are 1 pm and 7 pm on both days, and each of the first three sessions will feature two group matches. It means all eight players will be in action. The final will take place on Sunday, September 25, starting at 7 pm.
Ronnie and Reanne Are the Standout Pairing
In the live draw made by jockey Hayley Turner during ITV Racing's coverage of the Shergar Cup, Ronnie O'Sullivan was paired with Reanne Evans. Judd Trump was selected to accompany Ng On-yee, Mark Selby was picked to partner with Rebecca Kenna, and Neil Robertson was given Nutcharut Wongharuthai as his playing partner.
The Ronnie O'Sullivan and Reanne Evans coupling immediately raised eyebrows as the duo have won a combined 19 World titles. Understandably BetVictor, the sponsoring bookmaker, make this duo its 7/4 competition favorite despite the pair having a combined age of 82!
At a collective 62, 2010 World Champion Neil Robertson and Nutcharut Wongharuthai are the youngest couplings. Wongharuthai won the 2022 Woman's British Open in January and doubled up in this year's World Championship. They are 7/4.
🟡 Two proven champions in scintillating form 🔥
Be a part of history at the @BetVictor World Mixed Doubles | 24-25 September | Milton Keynes 👉 https://t.co/eH3tXjSkYK pic.twitter.com/QAX42FnH56
— World Snooker Tour (@WeAreWST) September 17, 2022
Judd Trump, at 33, is the youngest male player in the tournament. His partner, Ng On-yee, is two years his junior. But, with three World Championship titles to her credit, it could be argued she is the more successful player. The best online betting sites make this pair 2/1 to take the rejuvenated competition.
The bookies are not keen on the Mark Selby and Rebecca Kenna pairing. Selby is a 27-time ranking-tournament winner with four World Championship titles. But Kenna has never won a World Woman's Snooker event and is yet to make it into the second round of a World Snooker Tour competition. Consequently, this duo is 8/1 to win this competition.
Mixed Double Round Robin Rules
The opening round will be played on a round-robin league table basis. Each pair will play the other three pairs in four-frame matches, where all four frames will be played even if defeat is inevitable.
Each frame will be played under the published Rules of Snooker with particular reference to 'Four-Handed Snooker' found in section three, Rule 18 (pages 33 and 34). To specify, this is alternate visits and NOT an alternate shot version.
One point will be awarded for each frame won in a match to determine the league table. In the event of two teams being tied on points, the result from the match between those teams will decide the positions, with the winner progressing.
If this result was a 2-2 draw or, in the case of multiple tied positions and results, the individual highest break in the event from the players involved will be the deciding factor, then the second-highest if still tied, and so on.
The pairs finishing first and second in the league table will play each other in the final, over the best of seven frames.
Who Is Under and Over Priced?
The 2-2 draw reverting to the highest break is an interesting clause. All four male players are more than capable of a monstrous break at an open virgin table. This could be an anomaly that sees Selby carry the inexperienced Kenna into the final.
Being pragmatic, due to reputations O'Sullivan and Evans may be underpriced due to their stature in the game. Similarly, Selby and Kenna could be over-priced due to Selby's underrated break-building abilities.
Snooker, like all betting sports, is about personal opinions. And this extraordinarily skillful game, due to its relatively slow nature, is an easy sport to trade in play. Therein, approaching this tournament with an open mind is probably the best way to tackle the 2002 World Mixed Doubles.
Nevertheless, the non-gambling snooker fans would dearly love to see O'Sullivan and Evans take this title. Two living legends of the sport, who could blame them? Their opening match is against Trump and Ng On-yee. Here the draw is priced at 6/4, an O'Sullivan/Evans win is 7/4, and Trump/Ng On-yee victory is 7/4.
Have you enjoyed this article? Then share it with your friends.
Share on Pinterest