Irish sportsbook Paddy Power has taken aim at UEFA over its underwhelming choice of venues for this summer's Women's Euros. The bookmaker, which is renowned for its marketing stunts, floated a giant inflatable arrow at the Academy Stadium during the Belgium versus Iceland match, drawing attention to the vacant Etihad Stadium.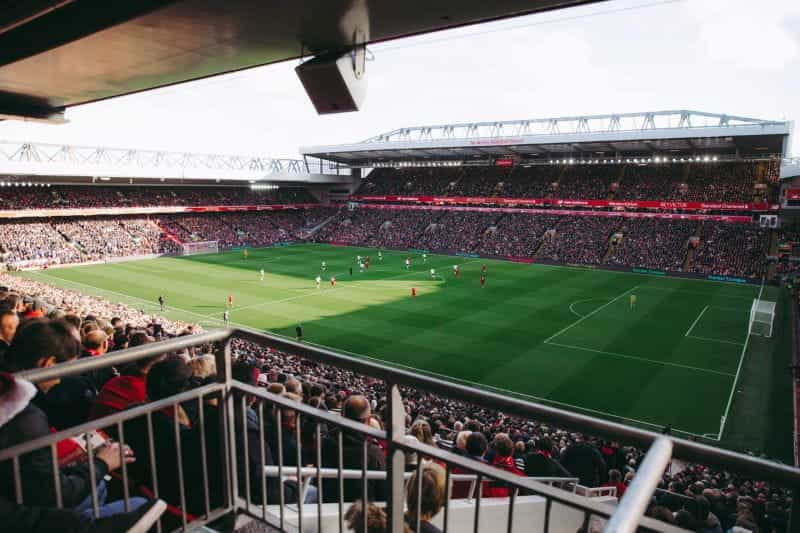 Low-Key Stadiums
Few bookmakers are as well-known as Paddy Power for grabbing media attention with outlandish antics. Its latest stunt has seen Paddy Power criticize UEFA for using small stadiums to host this summer's Women's EURO 2022 competition.
Paddy Power has shone a light on UEFA's choice of stadia, which the sportsbook described as unacceptable, low-key and unambitious. At Sunday's Belgium versus Iceland fixture, it floated a huge inflatable arrow highlighting the football association's decision.
The match took place at Manchester City's Academy Stadium, which has a capacity of just 4,400. The organizers argued that it was better to play matches in front of sell-out crowds rather than thousands of empty seats. A reduced capacity crowd of 3,859 supporters attended the seventh game of the tournament.
The 25x11x5 foot inflatable arrow pointed to Manchester City's Etihad Stadium, which was just 650 meters away. Hammering home it's message, the arrow was emblazoned with the words "Anyone seen a stadium big enough for a Euros game?". Football officials took down the inflatable pointing to the empty stadium midway through the game.
Announcing its stunt, Paddy Power elaborated on its disappointment in UEFA over its choice of stadia. The women's game has rocketed in popularity over recent years, and bigger venues with record crowds could have been a great opportunity to support the progress of the game.
It added that by opting for low-key stadia, UEFA is actively undermining that progress. UEFA competitions do not permit the use of standing terraces, reducing the capacity of Manchester City's Academy Stadium from its usual 7,000 to around 4,000. According to Paddy Power:
"The fear of empty seats really shouldn't put the footballing bosses off being more ambitious in their stadium selection – we're all used to a half empty Etihad most weeks anyway!"
Women's Football More Popular Than Ever
Paddy Power reached out to British sports fans to gauge their reactions on UEFA's venue selections for Women's EURO 2022 fixtures. It found that 67% of respondents think that the venue selections are a shame or show a lack of respect. Further to this, 66% said that the use of low-key stadiums will be detrimental to the progression of women's football.
Paddy Power has not been the only voice critical of UEFA's decision. Iceland captain Sara Bjork Gunnarsdottir made her thoughts known speaking to "Their Pitch" podcast. She labelled the use of the Academy Stadium "embarrassing", asking why her team would play at a training ground when so many stadiums are available.
UEFA and the FA have been cautious in their choice of venues for the Women's Euros, but there is strong evidence for the popularity of women's football. Earlier this year, the record for highest attendance at a women's football match was smashed, when 91,648 fans watched Barcelona Feminí play VfL Wolfsberg.
In 2019, the FIFA Women's World Cup was watched by approximately 1.12 billion viewers around the world. The final, which saw the USA beat the Netherlands 2-0, was the most watched Women's World Cup match ever, attracting a live audience of 82.18 million.
The FA has claimed that in spite of the growing interest in women's football, it struggled to find venues willing to host the matches for Women's EURO 2O22. The stadium selection process took place in 2019, when it says it had to persuade a number of clubs and cities to come forward.
Carnival Atmosphere
Despite fears that the venue would be underwhelming, the reception at Sunday's game defied expectations. A journalist for BBC Sport described a carnival atmosphere of non-stop noise, in which Belgium's fan band competed loudly against the drums of Iceland supporters.
Iceland fans also showed their support with the Viking Clap, a chant performed with a loud shout and a clap. The Viking Clap famously gained notoriety when almost 8% of the Icelandic population followed the team to France for the Men's EURO 2016 tournament.
Iceland's Prime Minister, Katrin Jakobsdottir flew to England to attend this weekend's match, joining spectators in the fan park in Manchester City Centre. Roberto Martinez, manager of Belgium's national team, was also seen in the crowd. The match ended in a 1-1 draw, and Belgium will go on to play France in Rotherham, while Iceland will return to the Academy Stadium to face off against Italy.
Manchester City's Academy Stadium is not the only venue to have drawn ire amongst sporting fans. England is hosting the whole tournament for the second time, and most of the stadiums chosen have been described as underwhelming. Amongst the ten venues are Leigh Sports Village in Wigan and the New York Stadium in Rotherham.
The opening game was held at Old Trafford, with an attendance of 68,781 spectators. While the demand for tickets is high, only three of the hosting stadiums have a capacity of 30,000 or more. The majority of the stadiums can host fewer than 20,000 fans. The sell-out final at Wembley is expected to be the most attended EURO final in history, for men's or women's tournaments.
Have you enjoyed this article? Then share it with your friends.
Share on Pinterest