After a one-all draw at full time, it was all down to a penalty shoot-out to determine whether the German side or the Scottish team would hoist the Europa Cup. Frankfurt's goalie, Kevin Trapp, was named man of the match after he saved Aaron Ramsey's shot and secured a 5-4 win. The first European title since 1980.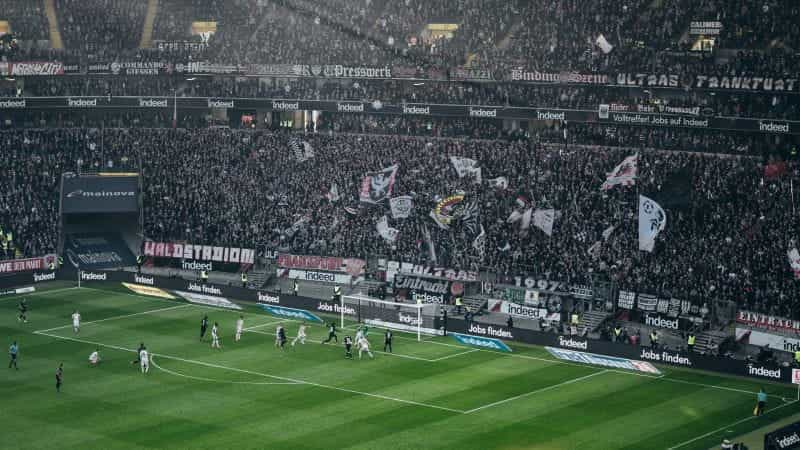 Frankfurt Were Favorites Despite Shaky Home Season
Frankfurt went into the final as favorites to win, but a fairly dismal season in the home Bundesliga meant that there was some doubt. They finished up in eleventh place in their home league and needed this win to secure a place in European football next season.
The Eagles went behind in the game in the second half when Tuta lost his footing leaving Aribo free to score for Rangers. However, they pulled it back to one all when Rafael Borré's foot got to Filip Kostic's cross.
So Close but Yet So Far
Both sides continued to try to score the decider, and the game went to extra time. It was not to be. Frankfurt's goalkeeper, Trapp, denied Rangers a last-minute goal when his outstretched leg deflected Ryan Kent's shot in the 118th minute. And as seems to be the case with so many major games recently, the decision came down to a penalty shoot-out.
Frankfurt's Route to The Final
Frankfurt went into this game having not lost a match in the campaign to the final. They were all out winners of their Group D draw, where they saw off Antwerp, Fernebache, and Olympiacos. In the last sixteen, they then went on to beat Real Betis, Barcelona in the quarter-finals, and West Ham in the semis. Therefore, their confidence was high going into the penalty shoot-out.
Rangers Were Always Ahead Until They Weren't
Rangers took the first penalty and went ahead. It was always Frankfurt playing catch up. In the final shots before the 'sudden death stage,' Kevin Trapp saved the shot from Aaron Ramsey. It was Borré's chance, and he did not fluff it. Powering the penalty past Ranger's keeper McGregor, his shot sealed the Championship for Oliver Glasner's men.
"Unbelievable. It was our 13th game in Europe and we didn't lose any of them. I told the players we had a fantastic journey and that journey should not end in Seville but when we come home with the trophy."– Oliver Glasner, Coach, Eintracht Frankfurt, Europa League on Twitter
Should Rangers Have Gone Down to Ten Men?
There were some dubious refereeing decisions in the game. One of note was when the boot of Ranger's Lundstram made contact with the Frankfurt's captain's face. It could be argued that Sebastian Rode ducked, but there was no denying the studs had caused a wound.
While there appeared to be no malice in the challenge, it was lucky for Rangers that the dangerous play did not result in a yellow card or sending off. However, at the end of the day, it did not matter as Frankfurt went on to win regardless.
Man of The Match to Trapp
Kevin Trapp was named Man of The Match. As he had made two such critical saves, it is not surprising. UEFA's Technical Observer panel said that they chose the 31-year-old keeper because of his
"good performance over the 90 minutes, a great save at the end of extra time to keep Frankfurt in the game and a decisive penalty save in the shoot-out."
The goalkeeper was clearly delighted on behalf of his team. He was keen to stress that the success did not come down to one player but was a result of the whole team's actions.
"We believed that we could do it, but you saw we had to dig deep for this win. We never gave up, we always believed. It was the most intense experience of our lives. This is not my night. It's everyone's night. It doesn't come down to one player; it comes down to a whole team."– Kevin Trapp, Goalkeeper, Eintracht Frankfurt, UEFA Website
Following in Some Giant Footsteps and Other Key Stats
With the tournament now over, here are some key statistics which may be of interest.
Frankfurt Are the Third Team with A Clean Sweep to The Finals
The Eagles are the third team that made it through the Europa League unbeaten. Chelsea did it in 2019 and Villareal in 2021.
First Non-Spanish or English Team for Eleven Years
The Europa League has not been won by a team other than an English or Spanish one since 2010/11 . That season saw Porto defeat Braga in the final to claim the title.
Frankfurt will be playing in Champions League
The win means that Frankfurt will be taking part in the Champions League
for the first time next season. The last time that they played in UEFA's premier club competition was the 1959/60 season. On that occasion, they made it to the European Cup final. There will now be five Bundesliga teams in the Champions League next season.
Frankfurt will join automatic qualifiers Bayern Munich, Borussia Dortmund, Bayer Leverkusen, and RB Leipzig, who claimed the top four positions in the home premier league.
Always a Goal
Frankfurt scored at least one goalin each of the Europa League matches it played. However, Ranger's Aribo was the only player in the final who appeared in every single one of the championship games in which his team played.
A Long Wait for A Bundesliga Team
A Bundesliga team has not won the Europa Cup title since 1997. Back then, it was called the UEFA Cup. That match also went to penalties and saw FC Schalke beat Inter Milan 4-1. The final was played over two legs at the time, but that was the last one like that. It was also the last final which was played at a home ground. After that, the finals took place at a neutral stadium.
Home Advantage?
Even when the teams play in a neutral stadium, there is still a home side. In this case, Frankfurt claimed this position. The huge number of their fans who traveled to Seville certainly made it seem like they were at home. There had been some debate about what color strip they would play in. In the end, they selected their white away kit to avoid a color clash. The sea of white behind their goal showed real commitment from their fans.
Fifth Penalty Shoot Out
The game was the ninth UEFA Cup / Europa League final to go to extra time since it was changed to a one-off fixture rather than being played over two legs. That change took place in 1998. Five of those matches have been decided by a penalty shoot-out.
Have you enjoyed this article? Then share it with your friends.
Share on Pinterest