Leading sports streaming service DAZN has announced a brand-new partnership with Pragmatic Group. The collaboration marks an expansion for DAZN into wider sports entertainment. Fans can look forward to a next generation betting product, as the group prepares to launch its hotly awaited DAZN BET brand. It has also been revealed that Mark Kemp has left BoyleSports to lead the new sportsbook enterprise.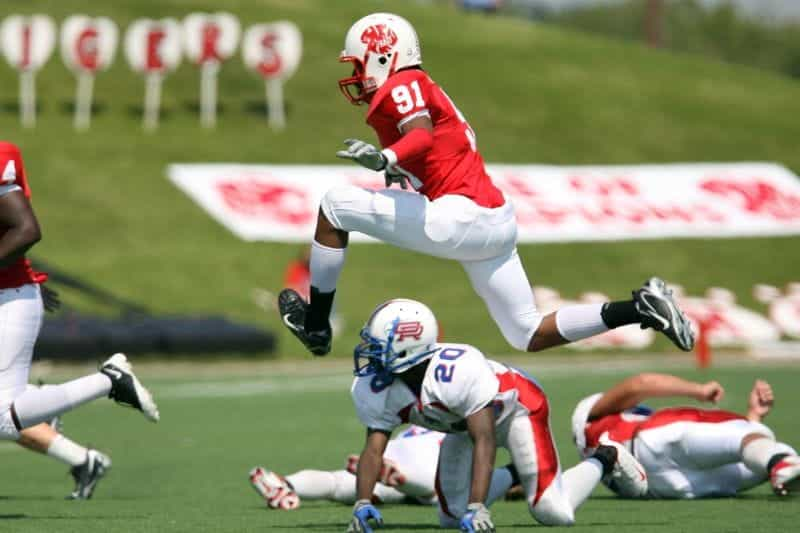 New Betting Platform
DAZN has revealed that it has entered into an exclusive multi-year partnership with Pragmatic Solutions and Pragmatic Play. The groundbreaking partnership will see DAZN work with Pragmatic Group to launch an exciting betting platform for sports fans.
Announcing the news via press release, DAZN explained that a new group of companies has been established to operate the betting service, which will be branded as DAZN BET. The deal is set to change the face of casual sports wagering, as DAZN seeks to combine its entertainment offerings with an innovative betting platform.
DAZN has promised to offer the world's first service that combines over-the-top live sports viewing and betting. For sports fans, it hopes that this will prove to be a more interactive and engaging experience than any other on the market. By launching this multi-offering platform, the company is keen to change the way that people enjoy sports.
Through their strategic partnership, DAZN and Pragmatic Group want to create the first truly immersive sports ecosystem. Users will be able to enjoy live and non-live content, browse news and highlights, socialize and bet with other sporting fans all on one convenient platform. CEO of DAZN Shay Segev was delighted to share the news:
"The convergence of sports media and betting is the future. This historic partnership brings together the leading sports media company and a technology partner who is committed to developing innovative experiences for fans. It underscores DAZN's commitment to revitalize the sports viewing experience by offering a broader spectrum of digital entertainment for fans."
Those sentiments were echoed by CEO of Pragmatic Solutions, Ashley Lang. He described the partnership as an honor, and is looking forward to delivering more integrated and immersive experiences to sporting fans. Lang added that the convergence of betting and sports media is the future.
Diversifying the Business
DAZN describes itself as a global over-the-top sports subscription video streaming service. This means that it is able to bring live and pre-recorded sports directly to viewers without the need for broadcast, TV or cable platforms. Since going live in August 2016, the company has made it simpler than ever for fans to watch sports online.
The group is headquartered in London, England and offers its streaming service to more than 200 countries and territories worldwide. By 2018, DAZN was estimated to be worth £3 billion and was described by the Evening Standard as one of the UK's few 'tech unicorns'. At the beginning of this year DAZN came close to acquiring BT Sport for around $800 million.
However, that deal fell through when BT opted to pursue talks with US TV conglomerate Discovery. The pandemic did incur some losses for the group, as customers ditched subscription services when the sports calendar was disrupted.
Revenue has since started to bounce back and DAZN is looking to bolster itself by moving into new business areas. As well as offering a great new service to customers, DAZN BET will help to diversify the business and boost profitability. It is expected that DAZN BET will soft launch a beta product to overlap with the beginning of the upcoming football season.
Pragmatic Group is a leading platform technology and content provider for the betting and gaming industry. It was selected for the project by DAZN thanks to its entrepreneurial and innovative spirit, as well as its wealth of expertise. The multi-year agreement will see the new joint business headquartered in Gibraltar, at the heart of the online gaming industry.
DAZN BET will build on DAZN's existing customer base and launch its new brand under an exclusive licensing agreement with DAZN Group. Pragmatic Group will provide the underlying platform and content, and will be in charge of further product development. The platform promises to offer both play for fun and play for money products.
Kemp Named CEO
Following the announcement that the Group is preparing to launch DAZN BET later this year, it has also been revealed that Mark Kemp will join the team leading the sportsbook unit. Kemp will leave his role as CEO of BoyleSports to become CEO of DAZN BET. In his new role, Kemp hopes to revitalize and disrupt the casual betting market.
Kemp will leave BoyleSports, Ireland's largest independent bookmaker, at the end of July. BoyleSports has more than 320 retail branches across Ireland and the UK. Its popular apps offer online betting, casino and lottery products. Kemp became CEO at the sportsbook in 2021, following a company restructuring that saw former CEO Conor Gray become Commercial Director.
Now, after little over a year in the role, Kemp will move on to DAZN BET. He will bring with him years of expertise, not only from BoyleSports but prior high-ranking positions as Managing Director at Ladbrokes Coral and UK Tote. BoyleSports has wished Kemp well in his future career, thanking him for his positive contribution during his short tenure.
Kemp is the latest amongst a growing roster of new hires set to propel DAZN forward in its new endeavors. The Group recently named Sandeep Tiku as its new Chief Technology Officer. Tiku will lead the company's global technology and product teams to drive the next phase of development for its sports streaming platform.
He brings with him more than twenty years of experience in developing and designing technology and platforms for B2C digital products. Before joining DAZN, Tiku held the role of Chief Operating Officer at Entain. There he worked closely alongside former Entain CEO Shay Segev.
Segev sent shockwaves through the industry last year when he jumped ship while Entain was in the middle of takeover discussions with MGM. Since then, DAZN's CEO has been joined by a number of his Entain colleagues, including EVP of Betting Ian Turnbull.
Have you enjoyed this article? Then share it with your friends.
Share on Pinterest