World-renowned casino and sportsbook operator Caesars Entertainment has revealed that it will be opening new physical retail sportsbook locations in the Southern US state of Louisiana. It will also be implementing updates to its sportsbook and online gaming platforms in the state of Pennsylvania, with the redesigned Caesars Sportsbook & Casino app already available to download.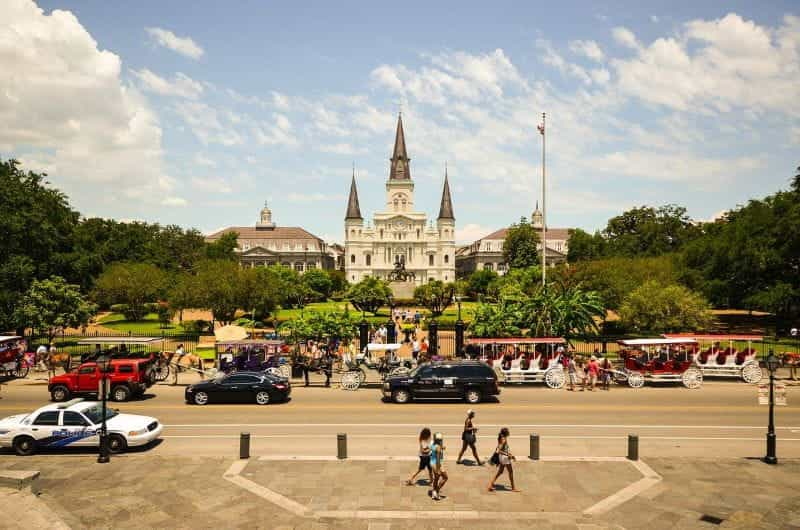 New Pennsylvania App Integrates Caesars Rewards Loyalty Program
The highly popular and influential sportsbook and casino operator Caesars Entertainment has announced that it will be updating its sports betting and igaming platform in Pennsylvania and also expanding its presence in the Southern state of Louisiana with the addition of several new physical retail sportsbook retail locations.
As of writing, the refreshed and redesigned Caesars Sportsbook & Casino mobile app is already available to download for sports bettors located in Pennsylvania. It puts on offer a new and improved sports betting experience, as well as a range of casino gaming options.
The new and updated Caesars Sportsbook & Casino mobile app in Pennsylvania also boasts features such as additional ways to deposit funds, faster payouts, live scoreboards, and expanded in-play betting options.
The revamped mobile app showcases one final, but vital, feature: full integration with the Caesars Rewards customer loyalty program that enables players to rack up points that can be then redeemed for exclusive opportunities across Caesars' gaming, hospitality, entertainment, nightlife, dining and venues.
New, Large Caesars Sportsbook Retail Locations Coming to Louisiana
The update to the Caesars Sportsbook & Casino mobile app in Pennsylvania was not all for the casino and sportsbook giant. It also took the opportunity to announce the launch of several new physical retail sportsbooks facilities at its Harrah's New Orleans and Horseshoe Bossier City Hotel & Casino sites in the Gulf State of Louisiana.
And the sportsbook's sizes are no small affair either: Horseshoe Bossier City's new sportsbook spans an area of more than 6,900sq ft and has on offer three betting windows, 15 self-service betting kiosks and nearly 100 TV screens.
The other sportsbook set to open, this time at Harrah's New Orleans, also boasts an impressive size of 5,700sq ft and will showcase four betting windows, 12 self-service betting kiosks and a 147ft video screen. And last but not least, a new 5,000sq ft World Series of Poker (WSOP) Room, featuring 20 poker tables, will open right next to the sportsbook.
Dan Real, the Regional President for Caesars Entertainment in Louisiana, celebrated the week of announcement as highly important to Caesars, noting that it was on the cusp of opening the largest poker room in the state at the Harrah's New Orleans location:
"This was a special week for Caesars and our longstanding commitment to Louisiana. The opening of our world-class Caesars Sportsbook locations and the new World Series of Poker® Room add to the legacy that Harrah's New Orleans and Horseshoe Bossier City have built in the Gulf Coast region. We're ready to welcome sports fans into our sportsbooks, and we're proud to open the largest poker room in Louisiana, true to the WSOP brand and what it represents."– Dan Real, Regional President, Caesars Entertainment, Press Release
Meanwhile, Eric Hession, President of Caesars Digital, touted the operator's relationship with the state of Louisiana and its residents, claiming that it feels at home in the Gulf State and that its recent expansionist efforts are proof of its commitment to the region:
"These incredible openings are a testament to Louisiana residents, our Team Members and the guests who visit these historic resorts. We truly feel like we're part of the home team in Louisiana, and we take pride in serving the great customers and sports fans in the state. From our Caesars Sportsbook app to our retail sportsbooks and now our elevated World Series of Poker Room, we embrace the opportunity to provide guests with even more unforgettable experiences."– Eric Hession, President, Caesars Digital, Press Release
Caesars Announced New Casino Partner in Virginia in August 2022
Caesars is expanding left and right in the United States, having just recently announced the Eastern Band of Cherokee Indians (EBCI) as its new joint venture partner in the development of a land-based casino development project in the state of Virginia.
The casino project in question, the Caesars Virginia casino in Danville, already had work commence on it the same week of the announcement in August 2022. The full cost to develop the whole casino complex is expected to reach a significant $650 million.
The full-service entertainment complex is being promoted as having the potential to create thousands of operational and construction jobs. The expected completion and opening date of the casino is currently scheduled for late 2024.
The principal chief of the Eastern Band of Cherokee Indians (EBCI), Richard Sneed, asserted that the tribe was delighted to be furthering its long-standing relationship with Caesars in the development of the Caesars Virginia resort:
"This venture is a vital opportunity for our nation and our people. We are excited to be expanding our longstanding and successful partnership with Caesars Entertainment to develop a first-class resort that will be defined by luxury and service that Caesars' guests have known and come to expect."– Richard Sneed, Principal Chief, Eastern Band of Cherokee Indians (EBCI), Press Release
Casino Operator Opened Largest Sportsbook in United States in June 2022
Thanks to a partnership with the MLB's Arizona Diamondbacks, Caesars Entertainment revealed in June 2022 that it had officially opened its Caesars Sportsbook at Chase Field in Phoenix, Arizona. Coming in at two-stories and 22,300-square-feet, the location is the largest sportsbook in Arizona and the largest retail sportsbook to open in a major sports stadium in the entire United States.
Along with a restaurant launched by renowned restaurateur Guy Fieri, the sportsbook location does its size justice: it houses nine betting windows and 13 self-service betting kiosks, wall-to-wall flatscreen televisions, a patio area, plush lounge-style seating on both floors, and boasts a total capacity of more than 425. Private space is also available for private events.
Eric Hession, Co-President of Caesars Digital, explained that the operator was naturally very proud of such a significant launch:
"We're extremely proud to bring Caesars Sportsbook and Guy Fieri's Kitchen + Bar to Chase Field and Downtown Phoenix. This destination provides sports bettors and non-sports bettors, locals, and visitors alike, with an experience they can't find anywhere else. Thank you to the Arizona Diamondbacks and Guy Fieri for making this possible."
Have you enjoyed this article? Then share it with your friends.
Share on Pinterest