Bally's Corporation has revealed that it is stepping into a brand new marketing partnership with Major League Baseball (MLB) franchise the New York Yankees. As part of the deal, four of Bally's main brands will become designated and official partners of the team, including the likes of Monkey Knife Fight, Bally Casino, Bally Play and Bally's Casino Atlantic City.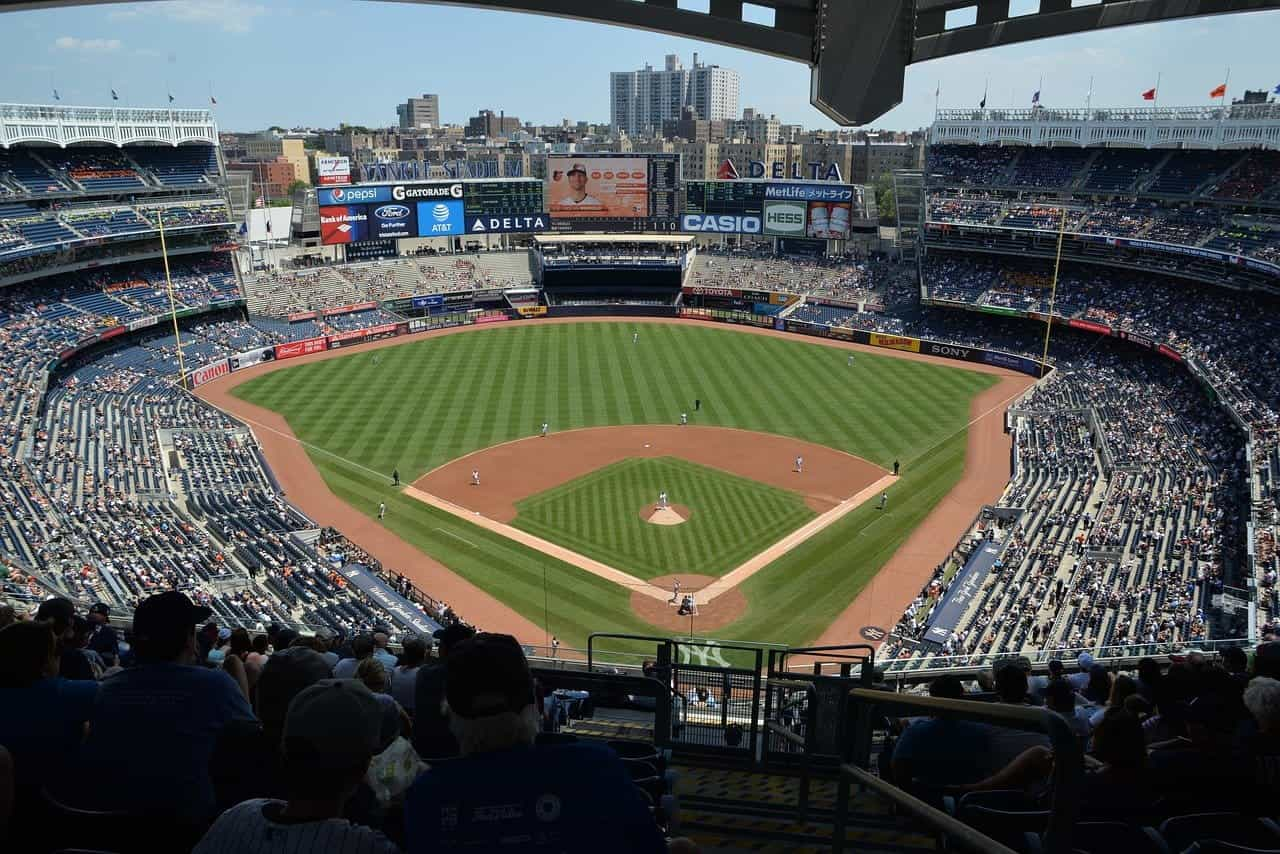 Bally's Will Benefit from Branding Displays Inside Yankee Stadium
The sportsbook and casino operator Bally's Corporation, which already boasts a major presence in the United States' sports betting scene, has just announced that it is partnering with an even more major Major League Baseball (MLB) franchise – the world famous New York Yankees.
Four of Bally's principal brands will thus become designated and official partners of the baseball team as a result of the deal. Among these brands will be the Bally Bet brand, which will become the team's official sports betting partner, Monkey Knife Fight – an official daily fantasy sports partner – Bally Casino, acting as an iGaming partner, and Bally Play, which will be the Yankees' an official free-to-play gaming partner. Bally's Casino Atlantic City will also turn into a proud partner of the Yankees.
Bally's and its aforementioned four brands will be able to enjoy a major boost to their branding presence thanks to being featured inside the team's Yankee Stadium ballpark, featuring the likes of LED advertising positions on the outfield wall, field-facing walls, the Terrace Level ribbon board, and LED boards throughout the Great Hall.
And finally, last but not least, Bally's Corporation will receive an in-game feature on the Yankees ballpark's centerfield video board, as well as other unique brand-enhancing activations.
Yankees Partnership Marks Bally's First NY-Based Partnership Since Going Live in State in July 2022
The momentous deal between Bally's Corporation and renowned MLB franchise the New York Yankees symbolizes Bally's first-ever sports team partnership in the state of New York ever since its Bally Bet brand in July 2022 became the ninth online sports betting operator to go live in the state since its legal sports betting market first launched in January 2022.
Bally's Interactive North America chief operating officer Adi Dhandhania praised the partnership between Bally's and the Yankees, seeing the former's brand and presence as so significant that it hardly needs any introduction:
"This is a great partnership that will give Bally Bet and our other Bally's Interactive brands terrific visibility in New York. The Yankees' history as a franchise and their popularity as a global brand speaks for itself."– Adi Dhandhania, Chief Operating Officer, Bally's Interactive North America, Press Release
For its part, Yankees senior vice president of partnerships Michael Tusiani explained that the team was looking forward to beginning its relationship with Bally's, trusting that the operator's newly established presence in Yankee Stadium will benefit its growth in the Empire State:
"We are excited to begin this partnership with Bally's. We hope that their branding in Yankee Stadium along with their in-Stadium customer engagement will greatly strengthen Bally's overall gaming presence in New York."– Michael Tusiani , Senior Vice President of Partnerships, New York Yankees, Press Release
Bally's Planning to Sell Back Two Rhode Island Casinos to Gaming and Leisure Properties
In other recent Bally's news, the casino owner announced in July 2022 that it has agreed to sell two more casino properties to Gaming and Leisure Properties (GLPI) in the guise of a sale-leaseback deal worth a significant $1 billion.
The Bally's Twin River Lincoln Casino Resort and Bally's Tiverton Casino & Hotel locations situated in the US state of Rhode Island will be sold back to GLP Capital, which acts as the operating partnership of the gaming real estate investment trust.
Worth noting is that, while Bally's has agreed to immediately lease back both properties, it will nevertheless continue to own, control, and manage all the gaming operations taking place at both facilities on an ongoing basis.
It clarified at the time that the deal was still subject to customary regulatory approvals, and that the Lincoln casino resort is likewise subject to lender consent. Bobby Lavan, chief financial officer of Bally's, justified the casino sell back as being an opportunity for the operator to earn some long-term liquidity:
"Bally's is excited to enter into this transaction with GLPI, further strengthening our growing relationship. The transaction will provide the company with significant, long-term liquidity, ensuring that Bally's is best positioned to continue executing its capital and strategic plan, as well as to capitalize on future opportunities presented in the market."– Bobby Lavan, Chief Financial Officer, Bally's Corporation, Press Release
Bally's Won Bid to Build Massive New Chicago Complex in June 2022
In June 2022, Bally's announced that the City of Chicago had selected its $1.7 billion casino and entertainment complex Bally's Chicago as the preferred bidder in the City's request for proposal (RFP) process to build and run a world-class casino resort in the city's downtown area.
During the bidding process, Bally's emphasized the project's "community-first approach", touting its commitment to promoting the diverse capabilities of its Chicago-based partners, such as the Chicago Community Builder's Collective.
Soo Kim, Chairman of Bally's Corporation's Board of Directors, penned a lengthy statement thanking Chicago's mayor Lori Lightfoot, hoping that the project will adequately serve the city and its community:
"We would like to thank Mayor Lightfoot and her office for conducting a tough, but fair, RFP process, and for selecting Bally's Chicago as the preferred bidder for the City's casino. Our vision is that Bally's Chicago will be of the people, by the people, and for the people of Chicago. Chicago is a unique and vibrant city, deserving of a world-class gaming and entertainment destination that drives the local economy, supports local labor, creates multigenerational wealth for minority investors, and showcases the best of what the City has to offer. We look forward to continuing to work collaboratively with the City Council and various City departments, the CFL, the Illinois Gaming Board, and all of our valued community partners on this exciting endeavor."
Have you enjoyed this article? Then share it with your friends.
Share on Pinterest