Eight poker players playing in a small stake $1/$3 No Limit Hold'em cash game at Rivers Casino in Pittsburgh have enjoyed a colossal payday thanks to a bad-beat jackpot landing on their table.
On a flop where one player had made a set of Aces, and his opponent had a nut flush draw with a middle-pin for a straight, the pot was always going to be large. But when a Queen of Spades landed on the turn and a fourth Ace came on the river, Raymond Brodersen lost a pot worth around $300 with his quad-Aces succumbing to a Royal Flush.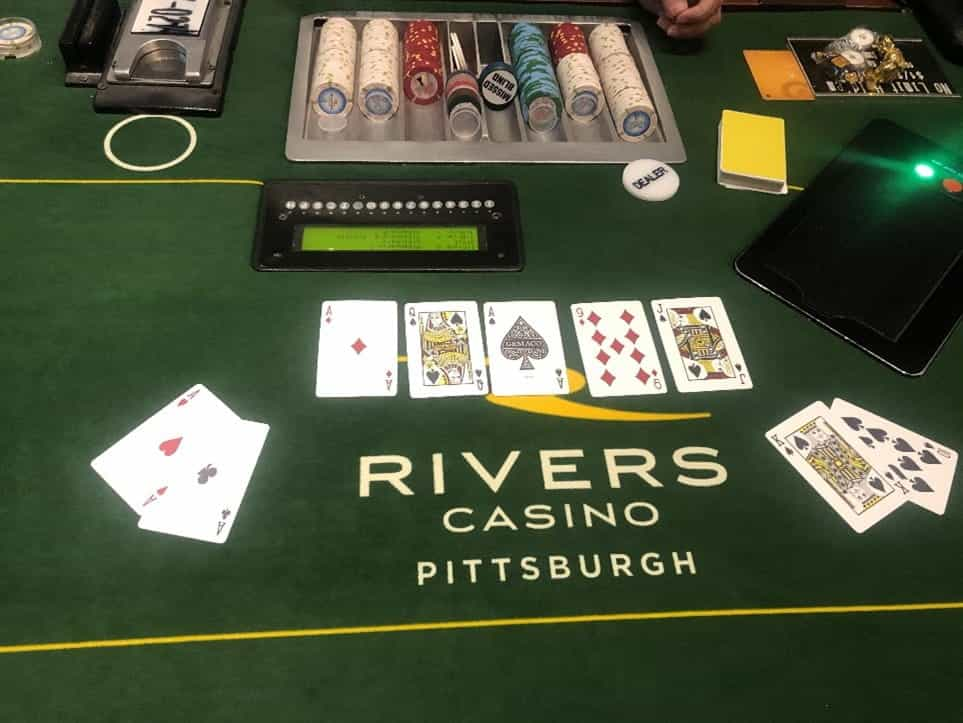 This misfortune was not such a bitter pill to swallow. The outrageous loss did trigger a bad-beat prize that Brodersen – as the losing player – was entitled to a 40 percent share. As the progressive jackpot pool had grown to $1,226,765.80 since it was last won in April 2021, he was later awarded $490,708.
Six $60K Prizes for the Bystanders
Benjamin Flanagan took away 30 percent of the pool – $368,029 – as the player with the 'winning' Royal Flush. Meanwhile, the six other players at the table divided the remaining 30 percent of the jackpot. They won $61,338 apiece.
Confirming the payouts, Andre Barnabei, assistant general manager at Rivers Casino Pittsburgh, said: "It's absolutely thrilling and potentially life-changing for a poker game to payout at this level. When we launch a bad-beat jackpot, we have no idea when it will hit or how big it will get."
"It's almost as exciting for us, as it is for the winners. Congrats also to our Rivers Pittsburgh Poker Room Team Members for a great job," the official said. The last time a bad-beat jackpot was won at the venue, it paid a total of $149,417.
Time Being Called on the Online Party?
Following the record-setting payout, another bad-beat jackpot has already started at Rivers Casino and it continues to grow daily. The minimum qualifying losing hand is four of a kind, 10s or higher. Rivers Casino Pittsburgh's previous bad-beat jackpot record was for more than $480,000. It was paid out in 2017.
It is noticeable that leading online poker sites have cut back on bad-beat jackpot pools in recent years. In 2008 PartyPoker did see a $24 cash pot trigger a $1,103,381 windfall on a 50c/$1 Limit Hold'em cash table.
More recently – in January 2022 – GGPoker divided up a $593,177.09 bad-beat jackpot when quad-Queens lost to quad-Kings in a $10/$20 Pot Limit Omaha game. However, since then, the site has lowered the hand qualifying criteria meaning big six-figure bad beat jackpots will become relatively scarce.
Have you enjoyed this article? Then share it with your friends.
Share on Pinterest